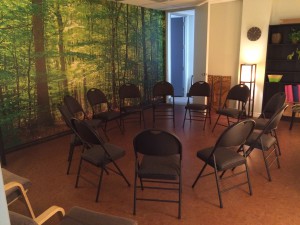 FREE YOURSELF FROM DEPRESSION, ANXIETY AND EMOTIONAL DISTRESS
DATES: FRIDAY October 14 – December 9th  1:00-3:15 pm. Retreat on Sunday, Nov 20th, 9:30 am -3:30pm
What is Mindfulness Based Cognitive Therapy?
Mindfulness Based Cognitive Therapy or MBCT is an innovative program that combines cognitive therapy with mindfulness meditation. Participants will learn skills and techniques to identify negative moods such as depression, anxiety and stress and to develop the tools to effectively deal with them.
MBCT has been clinically proven to be at least as effective as drugs for depression and provides equivalent protection against depressive relapse. Research has shown that MBCT can also benefit people suffering from anxiety and other emotional problems such as excessive worry, panic, irritability, anger, ADHD and stress related physical symptoms.
"What we're trying to get people to do is to anchor themselves in their experience so that when a negative emotion comes up in the mind, it can wash over them; it doesn't bring to mind all of the negative associations that for some people can happen very automatically." Zindel Segal, co-founder of MBCT The Mindful Way Through Depression Video
DATES: FRIDAY October 14 – December 9th  1:00-3:15 pm. Retreat on Sunday, Nov 20th, 9:30 am -3:30pm
We hold our MBCT classes in North York – 3080 Yonge Street (at Lawrence) once a week for 8 weeks. Each  class is 2 hours long. There is also a one-day retreat on a weekend at about week 6.
 Free consultation: before the classes start, we meet with you to help you make sure that the program will be  beneficial for you.
 Training materials, CDs, MP3s and workbooks, are free for participants.
 Cost for the program is $400 if you register before September 16th , $500 thereafter (Those with extended health insurance may be covered for some or all of this cost under psychological services).
Larry Borins MSW, RSW is a psychotherapist in private practice and founder of Mind Health Toronto, a centre for emotional wellbeing. He holds a Masters degree from Wurzweiler School of Social Work, Yeshiva University. In addition, Larry has advanced training in Cognitive Behavior Therapy, Mindfulness Based Interventions and Emotionally Focused Couples Therapy and uses these modalities to help his clients get out of the vicious cycles of negative emotions, recognize destructive patterns, find deeper connections, and explore new options for positive change.
Susan Hershkop BSC MD FRCP(C) is a psychiatrist. She studied medicine, completed her psychiatric residency at the University of Toronto and has an academic appointment as a Lecturer at the University of Toronto.  Susan has a psychiatric practice at Sunnybrook Health Sciences Centre where she sees patients with mood and anxiety disorders.  She has a particular interest in Cognitive Behaviour Therapy and mindfulness.
 To Register please call 416-322-5433 or e-mail [email protected] and fax in a referral from your physician (416) 322-5432